I am starting a new section where once a month on a Friday Israel Innovation 2.0 will cover Israel's thriving cleantech industry. To kick it off, I will be covering this week a cleantech initiative that the Jerusalem Business Networking Forum (JBNF), a group I'm a co-organizer of, is organizing.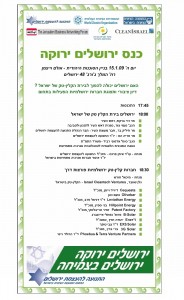 In the past 5 years, Israel has experienced a revival in cleantech initiatives that is slowly leading it to become the top country in the field, regarding both innovating and practicing it. In 2008, a total of $247 million was raised by Israeli companies, primarily in the solar industry. During this time the interest in the field among technology professionals also became apparent through the rise of Israeli cleantech networking groups and cleantech blogs focused on Israel.
While over the years most cleachtech companies have been founded in the center of Israel near Tel Aviv, a smaller group of companies have been founded in Jerusalem also. In an effort to increase activity in Jerusalem further and get the public involved, the Jerusalem Business Networking Forum (JBNF), a group that helps facilitate networking online and offline among Jerusalem business professionals, will be holding a special forum later this week in conjunction with the CleanIsrael Network, the Renewable Energy Association, the Movement for Strengthening Jerusalem and the Ministry of Industry and Trade.
The forum will feature presentations from renewable energy projects that companies around Jerusalem, including Phoebus Energy and 3G Solar, are working on as well as from representatives from Jerusalem's government, including Jerusalem Council Member & Responsible for Environment, Naomi Tsur. The event is free and open to the public and everyone is encouraged to attend.
What: Greening of Jerusalem
Date: Thursday, January 15, 2009
Time: 6 PM
Location: Weitzman Hall at the Jewish Agency's offices on 45 King George Street, Jerusalem
Language: English and Hebrew
To RSVP and for additional info please visit the JBNF's event page.