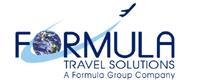 VShield Software Corp. announced today that it has begun talks to buy an Israel based B2B software company that develops software packages for the travel industry, including hotel chains and several International airlines.
According to Andrea Zecevic, Chief Product Officer,
"The Israeli company will operate independently as a wholly owned subsidiary in addition to our existing Trust Vault platform. They have some great technology that can serve as a platform for future growth." 
One Israeli company that can fit the description is Formula Travel Solutions, Ltd (FTS). FTS provides advanced software solutions for the travel industry and its products include TOPAX Management, TOPAX platform, AMSYS 2000 and the TOPAX B2B site. According to the Israeli R&D database Matimop, 
"The TOPAX platform includes the entire commercial, operational, and administrative aspects of Tour Operator activities, providing the necessary planning, costing, pricing, inventory, allotment, document printing, accounting and reporting. It includes hotel and flight reservations, packages, tours, transfers, car rental, and more."
While it is possible that FTS is the mystery company that VShield is after, it is unlikely. FTS is an established company that has been around since 1982. It also has a parent company,  Formula Vision Technologies Ltd. that would makes a sale more complicated.