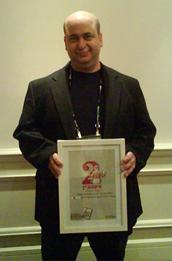 The 12th annual Israel Journey took place earlier today in Tel Aviv. During the conference, which is organized by Ernst & Young Israel and Israeli business newspaper, Globes, Globes announced its top 10 Israeli companies for 2008-2009 as follows:
YCD Multimedia Ltd.
Tulip Medical Ltd.
Dune Networks, Ltd.
Aternity Inc.
Payoneer, Inc.
N-Trig, Ltd.
Altair Semiconductor Ltd.
Vascular Biogenics (3rd Place)
InfoGin, Ltd. (2nd Place, picture on right is of CEO and Founder, Eran Wyler)
Amobee, Ltd. ("Start-up of the Year")
Congratulations to the top 10 start-ups!
More on the conference to come tomorrow.
About the author: Lisa Damast currently resides in Israel. Any questions or inquiries regarding this blog can be directed to her via email at lisa (at) israelinnovation20 (dot) com. She can also be followed on Twitter, where she covers additional Israeli technology companies and headlines among other topics.