SecondMarket, a centralized marketplace for the buying and selling of alternative investments, such as shares in private companies, announced earlier today the launch of its operations in Israel. An Israel-specific site that the company set up will provide Israeli companies with the ability to access capital and to facilitate secondary liquidity for shareholders.
According to Ranan Lachman, Vice President at SecondMarket who will oversee the company's Israeli efforts, "SecondMarket's private company market complements traditional financing methods and allows employees of Israeli start-ups to realize some of the value they've helped to create in their companies."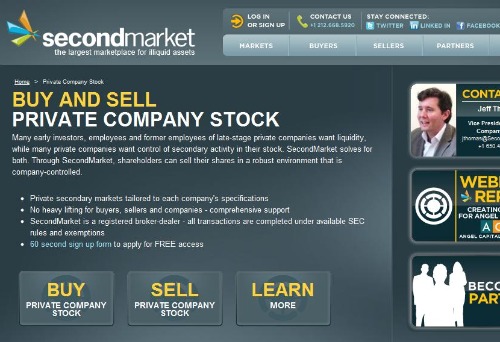 The announcement points out some fascinating figures about Israel's technology industry and SecondMarket's network. According to it,
"There are approximately 300,000 technology employees in Israel, many of whom have worked for multiple companies for which they hold stock options. SecondMarket's introduction into the Israeli market allows these employees to sell shares in a company-controlled environment prior to an IPO or M&A transaction.

SecondMarket has built a global network of over 20,000 market participants, and has completed more than $350 million in transactions in some of the world's leading venture-backed private companies, including Facebook, Twitter and LinkedIn. SecondMarket's private company model also provides Israeli venture-backed private companies with an opportunity to access capital through a cost-effective and efficient auction platform."
This move is unlikely to change the Israeli tech scene much though. The third quarter saw an overall increase in VC funding in the Israeli companies that SecondMarket is interested in attracting, the already established ones. In addition, 2011 is expected to see a revival in Israeli companies going public, other companies that SecondMarket tries to attract.
That said, the SecondMarket concept does offer another exit solution for VC-funded companies, which Israel's struggling VC funds could push for. It also wouldn't be surprising if employees who have been at a few companies and have shares in them use SecondMarket to sell those shares, especially entrepreneurs who will use that money to build startups.