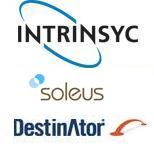 Earlier this week, Intrinsyc, a mobile and embedded software solutions provider, announced that it signed a Soleus license agreement with a large Original Design Manufacturers (ODM) of computers and consumer electronics devices to use the Soleus software platform to create a handheld barcode-reading payment device, and a mobile phone capable of delivering location-based services (LBS).
According to a description of Soleus,
"Soleus is a comprehensive mobile software platform, with a telephony stack and a large applications portfolio, which enables mobile and portable device makers to develop and deploy an array of mobile devices quickly. Built on Windows Embedded CE, the flexible Soleus software platform allows numerous feature-set variations to meet the requirements to develop multiple handheld and handset designs."
Intrinsyc's Soleus deal comes after several announcements by the company last month and in October regarding deals for its Israel-originated Destinator software. One of the announcements was that Intrinsyc signed an agreement with an OEM to license its Destinator  for touch-screen handset and another was that it released a version of the Destinator navigation product for Symbian smartphones and had a distribution agreement with SatNav Technologies for them in India. 
According to a description of Destinator,
"Destinator navigation software sets new standards for driver safety, ease-of-use, rich content and user interface customization. The software delivers world-class turn-by-turn navigation with market-leading safety features for personal navigation devices (PNDs), personal digital assistants (PDAs) and smartphones, while also providing cellular, Bluetooth, Wi-Fi and PC connectivity. Destinator is an ideal software solution for in-vehicle and pedestrian-oriented navigation and content browsing."
Under the touch-screen handset agreement, Destinator software will be integrated to provide a complete navigation solution for a GPS-enabled Windows Mobile handset that is being developed for Asia and Latin America specific Asian and Latin American markets. Additionally, the devices will come pre-loaded with country-specific maps and language support.
In the SatNav deal, SatNav, a GPS technology provider, will distribute the Destinator program for Symbian smartphones. Destinator software will offer Symbian users a feature rich onboard navigation application that combines location with a series of value-added features such as text message location tagging and auto re-routing based on traffic information.  The deal marks Destinator's now being available on all the major mobile device operating systems. 
Destinator software was originally developed by the Israeli company Destinator Technologies. In July 2008 the company was acquired by Intrinsyc and remains in Israel now under the Intrinsyc name. 
Company Facts
Founded in 2001.
Intrinsyc Software Ltd. (Destinator division) based in Herziliyya, Israel.
Yuval Pecht, Director, PND Product Management.
Products: Destinator and Soleus.
Website: www.intrinsyc.com.