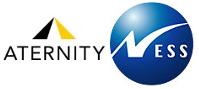 Israel Innovation 2.0 has received word that Aternity Inc. and Ness Technologies have formed a partnership in which Ness Technologies, a global provider of end-to-end IT services and
solutions, will sell, implement, train and support the Aternity Frontline Performance Intelligence (FPI) Platform in Israel.
In the news release announcing this, Shahar Efal, President of Ness Israel, explains,
"Enterprise-class organizations realize that they need to monitor and measure application performance, usage, and usability not just from the data center perspective, but from the end user perspective. Aternity delivers a unique and extremely effective approach with its Frontline Performance Intelligence platform which represents the next-generation of application performance management technology. We are committed to the successful deployment and implementation of Aternity as the ubiquitous platform for delivering end-to-end visibility into real end user experience for our clients."
This news follows Aternity's two-fold announcement back in June of its first set of packaged Frontline Performance Intelligence (FPI) solutions tailored for specific enterprise applications and the launch of its worldwide Partner Program.
In an Israel Innovation 2.0 interview with Aternity at the time, CEO Trevor Matz stated that
"Aternity's platform uniquely monitors the end-user experience in real time by analyzing, aggregating and correlating desktop performance, application performance and user productivity to help determine and resolve in less time the root cause of any problems. Using the FPI Platform, companies can become proactive in capacity planning, application licensing optimization, and desktop virtualization and orchestration."
While this partnership will allow Aternity to enter into a new market and help improve the performance of Israeli companies in the process, it can also give Ness – which is "facing intense competition form large players in the IT industry" – the edge it needs.
Related Entries
Aternity in the spotlight
Aternity continues to make the proactive enterprise a reality (Interview with Trevor Matz)
Aternity Headlines
Ness Technologies Headlines
About the author: Lisa Damast currently resides in Israel. Any questions or inquiries regarding this blog can be directed to her via email at lisa (at) israelinnovation20 (dot) com. She can also be followed on Twitter, where she covers additional Israeli technology companies and headlines among other topics.